UPCOMING EVENTS:
September 28, 2020: Mulligan Cup Golf Tournament at Raven Golf Course! For more information, CLICK HERE.
NEWS:
Click Here to see our recent appearance on 9News Denver!
Below is our recent article in The Summit Daily News.
View as pdf: Summit Daily March 2020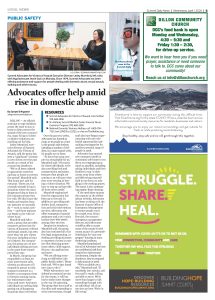 The Advocates for Victims of Assault and our supporters host a variety of events that benefit AVA! Interested in volunteering or hosting an event? Contact us at development@summitadvocates.org.