Upcoming Events
The Summit Advocates host numerous events throughout the year.  You can participate in our fundraising events as an attendee, sponsor, or donor.  Please contact Mandi at Development@SummitAdvocates.org for more information on how to get involved.
"Resiliency on the River" Fourth Annual Golf Tournament
Our fourth annual charity golf tournament is coming up this Memorial Day, Monday, May 29th. This year, our tournament will be at The River Course at Keystone. Kick off your summer and support local survivors by participating in our tournament! Click here to register your foursome for $480 which includes a BBQ lunch.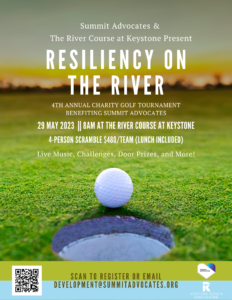 First Annual Bowling Tournament
We are working something striking with Elevation Bowl in Dillon, Colorado.  More information to come soon!
Third Annual Cycling to End the Cycle of Violence
Support our team of cyclists as they take on the Triple Bypass this July 22, 2023.  Riders will start in Evergreen, Colorado traveling 118 miles to Avon, Colorado.  They will climb more than 10,000 vertical feet in all cresting Juniper Pass, Loveland Pass, and Vail Pass along the way.
Our title sponsor, Elevation Fitness, found connection with the Summit Advocates mission and an individuals fitness journey.  It all starts with a goal.  A goal related to change.  A goal related to healing.  A goal that may seem too big to reach when you first set it.  Nonetheless, showing up for yourself every day.  The Triple Bypass is a big goal!
You can follow along with rider stories on our social media.  Each comes from a different background, a different story about why they are riding, and their own fitness journey.  You can follow Lesley's journey to the Triple Bypass here.
You can support our riders individually or as whole team by making a pledge.  You can find us on Venmo @SummitAdvocates.  Please put Triple Bypass in the subject line.  We are also seeking corporate sponsors currently.  Please contact Mandi at Development@SummitAdvocates.Org for more information or if you are interested in volunteering at the event.
Advocates in the News
Summit Advocates is proud to announce we were voted to be one of the best nonprofits in Dillon, Colorado in 2022!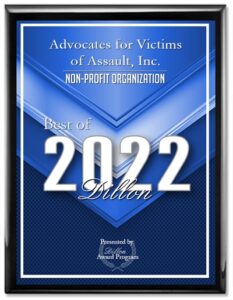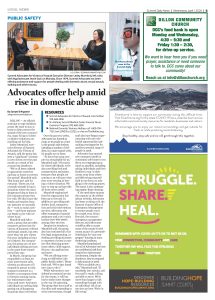 The Advocates for Victims of Assault and our supporters host a variety of events that benefit Summit Advocates! Interested in volunteering or hosting an event? Contact us at development@summitadvocates.org.